Digital Services
Digital Main Street is an innovative program funded by the federal and provincial governments. All components of the program are offered free to qualifying businesses. It's designed to help small businesses create or improve their existing online presence. The program is built around an online learning platform and structured training programs.
Also offering free e-commerce website development and a $2500 Digital Transformation Grant, the program is supported by a local Digital Specialist to help you transform your business into a more technologically savvy enterprise.
All offerings are completely FREE.
Bookings available with our convenient and flexible scheduling. First-come first-served.
Your Digital Specialist Cyndy Bolton
Our Digital Specialist possesses a strong understanding of technology, digital marketing skills, and experience that businesses can access for free. Cyndy is a seasoned expert who can assist with your Digital Transformation Grant application and also offer free one-on-one consultation sessions where businesses receive targeted support to get started, grow their digital presence, and grow their business. Few digital marketing resources can be one size fits all. For recommendations that are tailored to you and your business, Cyndy will be happy to chat with you and complete your digital assessment. This will help you determine where to concentrate your efforts on improving your online presence and generate increased business. On-site, or live virtual meeting options available at your convenience.
Cyndy provides one-on-one digital discovery sessions with the following:
Google Business Profile
Facebook, Instagram, LinkedIn & Canva
Content Development
Digital Assessments
Finding free online marketing tools
Applying for 'digital' grants
Digital Transformation Grant Program 4.0
The applications portal for the Digital Main Street Digital Transformation Grant Program (DTG) 4.0 opens in June. Create an account and complete the digital assessment in order to start your grant application process. Upon successful completion of these steps, you will be notified by email once the grant portal opens. Applications will be accepted until October 31st, 2022.
ShopHERE Program
Powered by Google and in partnership with Digital Main Street, the ShopHere program creates online stores for independent small businesses and artists at no cost. In addition, participants also receive 1:1 support from an online e-Commerce Coordinator, support includes training in digital marketing, shipping, and inventory management, and gain free access to benefits and tools from partners.

Canada Digital Adoption Program - Grow Your Business Online
As part of the Canada Digital Adoption Program, the Government of Canada has partnered with four organizations to provide the 'Grow Your Business Online' grant to small businesses across the Ontario. Eligible businesses will receive a micro-grant of up to $2,400 to help with the costs related to adopting e-commerce and supported by a network of e-commerce advisors.
Applications can only be submitted by a small business that meets all of the following criteria:
Is a for-profit business (including for-profit social enterprises and co-operatives)
Is a registered or incorporated business
Is a consumer-facing business
Can be accessed by consumers or provides in-person services to consumers
Has at least one employee
Westport Brewing Company, Westport
Tamara Phillips & Kevin Quinlan
"Across the board, it has transformed our business overnight."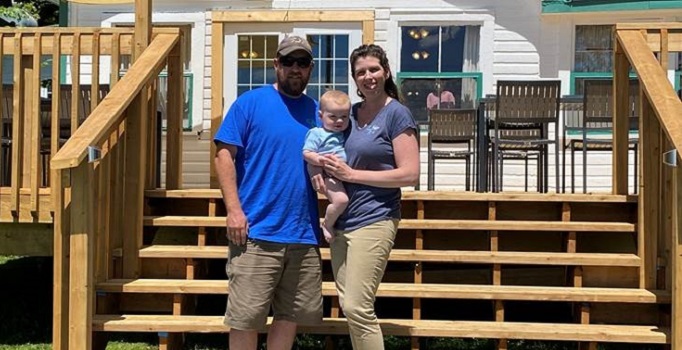 Poplars Resort, Newboro
Becky & Dave Thompson
"The impact of these programs has been immeasurable in a very short period of time," We were able to develop an off-season marketing campaign to strengthen our business."
Golden Moment Farm, Athens
John & Norma Banford
"It was a pleasure working with the Specialist to talk about improvements to our website and using social media to enhance our business. She was very knowledgeable, helpful and friendly."
Case Study: Seasons of Westport, Lori Reynen
The village of Westport has always benefitted from swarms of Americans seeking to capitalize on the exchange rate while they vacation at the head of the navigable Rideau Canal. But the summer of 2020 seemed to promise something different for businesses like Seasons of Westport, Lori Reynen's women fashion and accessory shop.
"We thought last year would be really disastrous with the Americans not being able to come," says Reynen.
Contact our Digital Services Team Member Now!
For more information on the Leeds Grenville program and to connect with our Digital Services Specialist, contact Leeds Grenville Business Development Officer Shelbi McFarlane via shelbi.mcfarlane@uclg.on.ca or call 613-342-3840, ext. 5361.